Welcome to Sjøfartsfilm.
"The Maritime Heritage of Norway" is a film series about the maritime history and coastal culture of Norway.  We can now offer 2 titles in English versions.
To order, simply send us an email at post@sjofartsfilm.no with your selected films and whether you want them in PAL or NTSC.
We will then ship your order with an enclosed invoice.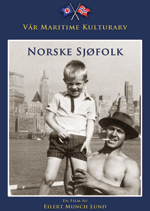 NORWEGIAN SAILORS:
This is the fabulous story of the Norwegian sailors and officers from the time of Leiv Eriksson and the Vikings till today. After the Vikings came the sailing ship era, with men of steel and ships of wood. Then came steamships and the specialized vessels of today. In this documentary we closely follow the Norwegian sailors' struggle to survive through two world wars, and peace time. The point of view is clear; the sailors that we meet in the film were the main contributors to the creation of the Norwegian welfare society of today.  We also meet the organizations around the sailors, like the Norwegian Seamen's Church and Norwegian Seamen Government Service. The film is written and directed by Eilert Munch Lund – the leading maritime producer in Norway. This is his first of several films about The Maritime Heritage of Norway.
Extra features: Over 100 photos from the life onboard and ashore in the 50's and 60's, and a presentation by Eilert Munch Lund about the film and the Maritime Heritage of Norway.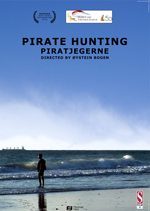 PIRATE HUNTING:
As an EU War Ship and a chemical tanker transit the Gulf of Aden, they encounter the feared Somali Pirates. How do their crews react to this sudden threat, and how do the pirates themselves prepare for the hunt? "Pirate Hunting" takes you deep inside the world of International piracy and it's reasons, showing the big business interests, and the personal motives behind the acts of if greed and violence. The film features exclusive footage from the Pirate Capital Eyl in Somalia, as well as never before shown video from inside the hijacked Ukrainian vessel MV Faina. The crew filmed their ordeal with a mobile phone, kept hidden in one of the crew members' underwear.
This DVD also features extensive bonus material, including deleted scenes, the full Faina Story, several short films about the life onboard the EU warship and the full length interviews with participants and experts.
"Pirate Hunting" was a nominee to the prestigious prize "The Golden Nymph" for Best News Documentary at Monte Carlo TV Festival 2010, and has been broadcast in numerous countries around the world.