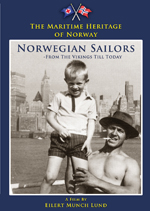 Norwegian Sailors
This is the fabulous story of the Norwegian sailors and officers from the time of Leiv Eriksson and the Vikings till today. After the Vikings came the sailing ship era, with men of steel and ships of wood. Then came steamships and the specialized vessels of today. In this documentary we closely follow the
Norwegian sailors' struggle to survive through two world wars, and peace time. The point of view is clear; the sailors that we meet in the film were the main contributors to the creation of the Norwegian welfare society of today.  We also meet the organizations around the sailors, like the
Norwegian Seamen's Church and Norwegian Seamen Government Service. The film is written and directed by Eilert Munch Lund – the leading maritime producer in Norway. This is his first of several films about The Maritime Heritage of Norway.
Extra features: Over 100 photos from life onboard and ashore in the 50's and 60's, and a presentation by  Eilert Munch Lund about the film and the Maritime Heritage of Norway.
DETTE ER DEN ENGELSKE VERSJONEN AV "NORSKE SJØFOLK"

Oppdaterer...